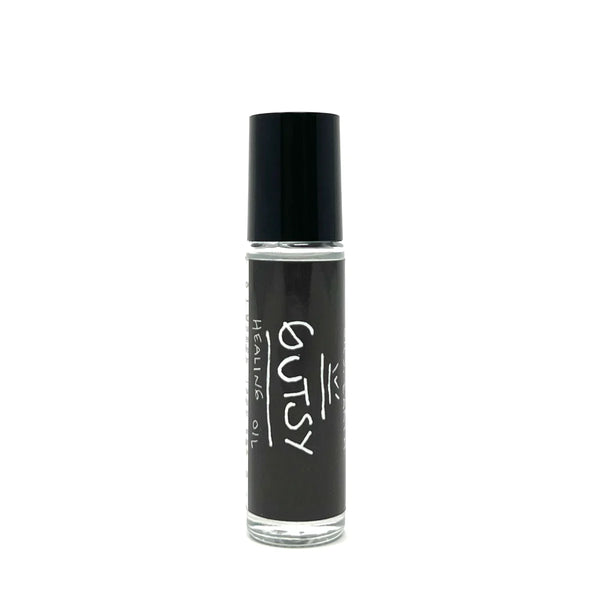 Oils.Earth - Roller - Gutsy
All natural roll-on oils for physical and emotional well-being. Enhanced with clear quartz.
☽ GUTSY ROLLER ☾
・Soothe + Digest・

May every food and life experience be assimilated, integrated and digested with ease!

This blend is your friend for all your digestive support needs!
It helps soothe digestive discomfort caused by indigestion, gas, bloating, heart burn, and is even useful for motion sickness.


INGREDIENTS
100% Pure Essential Oils (organic) of peppermint, Coriander, Ginger, Caraway, Cardamom, Fennel, and Anise, 100% Organic Fractionated Coconut Carrier Oil, a Quartz Gemstone (Master crystal - Amplifies the benefits of the blend and its intention).* 
Free of synthetics, parabens, sulfates, mineral oil, fillers, petroleum, artificial fragrances, dyes + color additives.
Vegan ingredients + no testing on animals, ever.

10ml | Clear Glass Roller Bottle | Stainless Steel Roller Ball 
RITUAL
For topical and aromatic use only. Apply directly on stomach area as needed. For constipation, apply on a clockwise manner on your stomach. For motion sickness, apply to wrist creases and inhale.
For Children, only apply a small amount on the bottom of the feet.


SAFETY
If you are pregnant, nursing, or under a doctor's care, consult your physician. Avoid contact with eyes, inner ears, and sensitive areas. In case of allergic reaction, immediately discontinue use.

☆ Ask about our custom orders ☆
* Stones are cleansed prior to incorporation.


_____
This information has not been evaluated by the FDA. This product is not intended to diagnose, treat, cure, or prevent any disease.