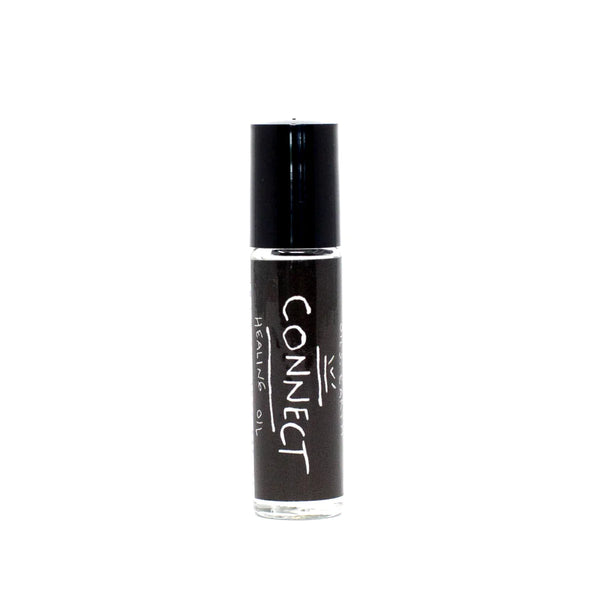 Oils.Earth - Roller - Connect
All natural roll-on oils for physical and emotional well-being. Enhanced with clear quartz.
☽ CONNECT ROLLER ☾
・Unity + Comfort・

May you feel connected and supported regardless of the circumstances.

With a  warming and spicy aroma, this blend evokes feelings of connection and unity. It warms our heart and opens our lungs as if we were in a gathering surrounded by loved ones. Comforting us with a sense of peace and safety.


INGREDIENTS
100% Pure Essential Oils (organic) of cedarwood, cinnamon, green mandarin, and eucalyptus, 100% organic fractionated coconut carrier oil, a Quartz Gemstone (the stone of magnification & intensification - increases the benefits of the blend and its intention). *  
Free of synthetics, parabens, sulfates, mineral oil, fillers, petroleum, artificial fragrances, dyes + color additives.
Vegan ingredients + no testing on animals, ever.

10ml | Clear Glass Roller Bottle | Stainless Steel Roller Ball


RITUAL
For topical and aromatic use only. Apply oil to wrist creases (taking three deep inhales), the bottom of the feet, and belly button three times a day.  For Children, only apply a small amount on the bottom of the feet.

SAFETY
If you are pregnant, nursing, or under a doctor's care, consult your physician. Avoid contact with eyes, inner ears, and sensitive areas. In case of allergic reaction, immediately discontinue use.
** Cinnamon oil may be too hot for sensitive skin. Test a little on small area first.


☆ Ask about our custom orders ☆
* Stones are cleansed prior to incorporation.



_____
This information has not been evaluated by the FDA. This product is not intended to diagnose, treat, cure, or prevent any disease.